Florida State / Jon C. Dalton Institute on College Student Values / Proceedings / 2013 / 2013 Featured Speakers
2013 Featured Speakers
Eric Stoller
Eric Stoller is a thought-leader, speaker and consultant on using social media in higher education to create connections and enhance community. He works with higher education institutions and their associations to assist them in their strategic communications efforts.
As the Student Affairs and Technology blogger for InsideHigherEd.com, Eric writes about ways in which we can use technology to communicate, educate, and enrich the lives of students.
Eric has given presentations on social media and technology at multiple Higher Education events. He holds a BA in Communications/Public Relations from the University of Northern Iowa and an Ed.M. in College Student Services Administration from Oregon State University.
Eric can be found online at http://ericstoller.com/ and tweeting at http://twitter.com/ericstoller/
Please read Eric Stoller's Character Clearinghouse interview HERE.
G+ Hangout with Eric Stoller
Jean Twenge
Jean M. Twenge, Professor of Psychology at San Diego State University, is the author of more than 90 scientific publications and the books The Narcissism Epidemic: Living in the Age of Entitlement (co-authored with W. Keith Campbell), Generation Me: Why Today's Young Americans Are More Confident, Assertive, Entitled — and More Miserable Than Ever Before, and The Impatient Woman's Guide to Getting Pregnant.
Dr. Twenge frequently gives talks and seminars on teaching and working with today's young generation based on a dataset of 11 million young people. She holds a BA and MA from the University of Chicago and a Ph.D. from the University of Michigan. She lives in San Diego, California, with her husband and daughters.
Please read Jean Twenge's Character Clearinghouse interview HERE.
G+ Hangout with Jean Twenge
Kevin Kruger
An accomplished speaker, leader, and educator, Kevin Kruger has been Associate Executive Director of NASPA since 1995, and became its first executive-level President March 15, 2012. In his capacity as a national advocate for students and the primary spokesperson for student affairs administrators and practitioners, he draws on more than 30 years of experience in higher education.
Prior to NASPA, Dr. Kruger worked for 15 years at the University of Maryland College Park and the University of Maryland Baltimore County. During his tenure at the University of Maryland he worked in orientation, student activities, leadership development, admissions, and with the vice president for student affairs office. Dr. Kruger has also served as an adjunct faculty member in the Student Development in Higher Education program at Trinity College in Washington, DC.
Dr. Kruger represents NASPA in national forums such as the Washington Higher Education Secretariat, which includes the leaders of approximately 50 higher education associations. While at NASPA, he has pursued a number of initiatives designed to enhance the association's role in public policy, research, professional development, and student learning and assessment, with a particular interest in the use of technology in serving diverse student populations.
Dr. Kruger has published and presented nationally on leadership development, using technology in student affairs administration, international education and is a regular lecturer on technology in student affairs, the Myers Briggs Type Indicator, assessment and student learning. He is the editor of two Jossey-Bass publications, Technology Innovations in Student Services and Using Technology to Promote Student Learning. He also has chapters in The Handbook of Student Affairs Administration; Understanding the Role of Academic and Student Affairs Collaboration in Creating a Successful Learning Environment; Beyond Borders: How International Developments are Changing Student Affairs Practice; and Involving Commuter Students in Learning.
Please read Kevin Kruger's Character Clearinghouse interview HERE.
G+ Hangout with Kevin Kruger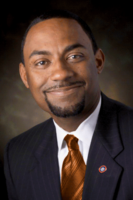 Kent Smith
Dr. Kent Smith, Jr. was named sixteenth President of Langston University by the OSU and A&M Board of Regents on January 19, 2012, and assumed office on June 4, 2012. He also serves as Professor of Education.
Heralded by his contemporaries as a student-focused, deeply committed, dynamic leader, Smith brings with him the experience and potential to take Oklahoma's only historically black institution of higher education to the next level of academic excellence and national preeminence.
Prior to coming to Langston, he served as the Vice President for Student Affairs, Chief Student Affairs Officer, and Assistant Professor of Education at Ohio University in Athens, Ohio. He is a former Dean of Students at Auburn University in Alabama, Director of Multicultural Affairs at Case Western Reserve University in Ohio, and Assistant Director of Black Student Services and Adjunct Professor of Education at Colorado State University. He was also an Adjunct Professor at Cleveland State University.
A Louisiana native, Smith earned a bachelor's degree in secondary education and a master's degree in educational administration and supervision from Southern University in Baton Rouge, and a doctorate in education and human resources studies, with a concentration in educational administration and student affairs, from Colorado State in Fort Collins. 
He and his wife Tiffany are the parents of three sons – Trey, Tyler and Trent - and daughter Morgan, who is currently enrolled at the University of Louisiana at Lafayette.
Please read Kent Smith's Character Clearinghouse Interview HERE.
Laura Pasquini

Laura A. Pasquini is a higher education professional and doctoral student at the University of North Texas (UNT). Over the past ten years Ms. Pasquini has contributed to the field of Student and Academic Affairs in the United Kingdom, France, Canada and the United States. Her professional experiences in higher education include academic advising, tutoring services, supplemental instruction, career advising, campus activities, first year experience curriculum, orientation programs and housing and residence life.

Laura's publications include the topics of technology for training and development, learning and performance innovation, and technology needs assessment and implementation methods for higher education administrators. Laura's consulting work includes web design and marketing, social media training and strategy, podcasting and web tutorial development, and virtual collaboration projects.

 Laura presents internationally on a variety of trends and issues for learning and performance for both professional associations and higher education institutions. She has delivered educational sessions and webinars for NACADA, ACPA, NASPA, Higher Ed Hero, Innovative Educators, Break Drink's Campus Tech Connection (#CTCX), NACA, and other higher education groups. Laura was elected for the NACADA Technology in Advising Commission Chair for 2011-2013. Laura's full time job is as an Academic Counselor and First Year Seminar Instructor with the Office for Exploring Majors, Undergraduate Studies at the University of North Texas.

Laura is currently working on her Ph.D. in Applied Technology & Performance Improvement with the Department of Learning Technologies at UNT. Her research lies in the areas of open education, collaborative learning environments, and shared learning networks for education, training and development.

Laura is a self-declared geek and a self-taught techie who has an enthusiasm for engaging peers in online collaborative learning. It is easy to follow along with Laura's technology research and exploration as she is often found tweeting, blogging, podcasting, or presenting about these topics.

 

G+ Hangout with Laura Pasquini